Article
Which type of fuel is the more eco-friendly?
The German Technologie- und Förderzentrum im Kompetenzzentrum für Nachwachsende Rohstoffe has tested the level of particle emissions when you fire with different kinds of wood briquettes. In the test, the institute has also compared the results to the particle emissions when firing with regular firewood. 
Which type of wood briquettes burns the cleanest? 
If you've decided to fire with wood briquettes, you should know that there are some types of wood briquettes that burn more cleanly than others.
The round wood briquettes with the hole in the middle burn the cleanest. The cubic shaped briquettes do less well in the test.
Are you choosing between firewood and briquettes? 
Is the choice between regular firewood and wood briquettes, you should choose regular firewood out of consideration of the environment and air pollution because regular firewood burns cleaner than wood briquettes.
According to the test, you shouldn't use brown coal as fuel in your wood burning stove.
Bark 
In general, the particle emissions increase if there is bark on the wood or if you fire with bark briquettes. That's because the waste products from the tree accumulate in the bark and the waste products are released into the air during combustion.
Test and comparison of wood and wood briquettes for a wood burning stove
In the test, several kinds of wood briquettes were used as well as beech and birch wood. 1.6 kilogram of fuel was used per firing.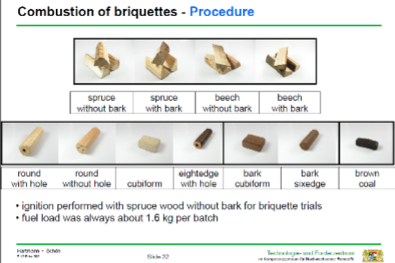 The result of the test can be seen in the graph below: