Article
Over the last few years a lot has happened to wood burning stove design. Especially the glass has seen a big development when it comes to design and expression.
We don't have to go far back in time before traditional stoves didn't have any glass and the only view you got of the flames was when you opened the iron door to put more wood on the fire.
Later, the stoves got the classically framed glass in the door which was made of heat resistant glass ceramics.
Flat, curved, or with an angle?
Today, the glass has become an important element in the wood burning stove's aesthetic expression and design. You have to have the sensation that there's a bonfire in the living room. Big glass surfaces provide maximum view of the flames from several sides which many people want. Thanks to technology, it's possible to move away from flat glass to curved glass and glass with an angle. Expression, form and colour have become parameters which matter when choosing a wood burning stove.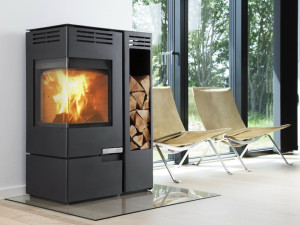 Glass provides security

The ceramic glass must be able to withstand heat of up to 1200 degrees inside the fire box while the living room temperature on the other side is around 22 degrees without the glass cracking.
At the same time the glass is important when it comes to security. You can get close to the stove and enjoy the view of the flames without risking being hit by flying embers which also minimises the fire hazard.
One of the leading producers of wood burning stove glass is the company Schott which you can read more about here.